Xactimate Specialist
&
Professional Residential Roof
Estimates
Welcome to American Roof Supplements. Our company was founded to help roofing organizations like yours maximize each roof claim through the use of roofing supplements. By tailoring each claim to individual customers, we offer you more freedom to run your business and enjoy your life. We work diligently to help our clients prepare professional roof estimates for residential customers.
With years of experience as roofers, my brother Brock and I have developed a system to help other roofers find success. With our stress-free process, you can increase your profits from all insurance claims.We understand how stressful handling insurance companies and homeowners can be. Allow us to handle the details so your team can focus on running a busy roofing company. 
Don't add unnecessary stress to your life. Outsource your roofing supplements today and realize the freedom of gaining back some control of your claims. Insurance companies don't look out for the roofing contractors, but American Roofing Supplements does. We never require a contract or a minimum yearly amount of supplements. The best part is a 72 hour turnaround time or it's FREE.
Hire our team of Xactimate Roof Supplement Experts to advocate for you and we guarantee they'll be accepted every time! Call (720) 999-5680 or fill out our online form now for more information. If you're ready to get started, get your first free, professionally done supplement today just for visiting our site!
Free Insurance Phone Number List
Aren't you getting sick of looking up all the insurance companies phone numbers yet? We called every insurance company to confirm that these phone numbers are correct and take you straight to the Insurance Claims Department! Click the link and Download the Cure!!!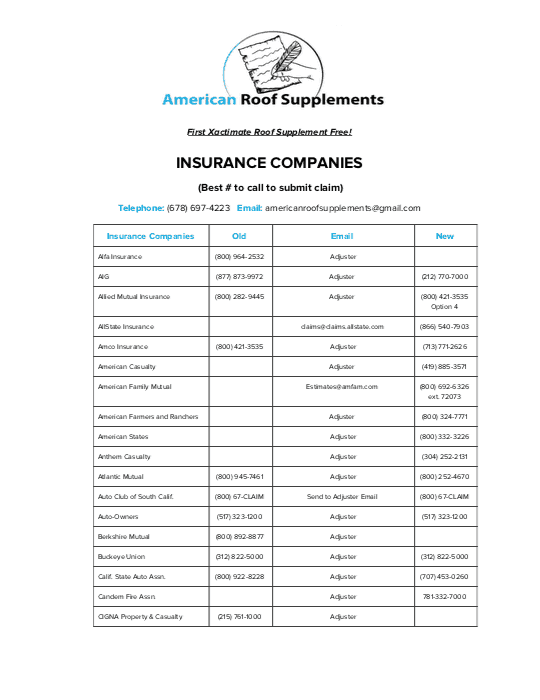 WE ARENT CALLED AMERICAN ROOF SUPPLEMENTS FOR NOTHING
Proudly serving all 50 states!